BWT plans to increase capital by 467 million yuan to accelerate world-class technology independent innovation
Source:
Release time::2022-06-22
Pageviews: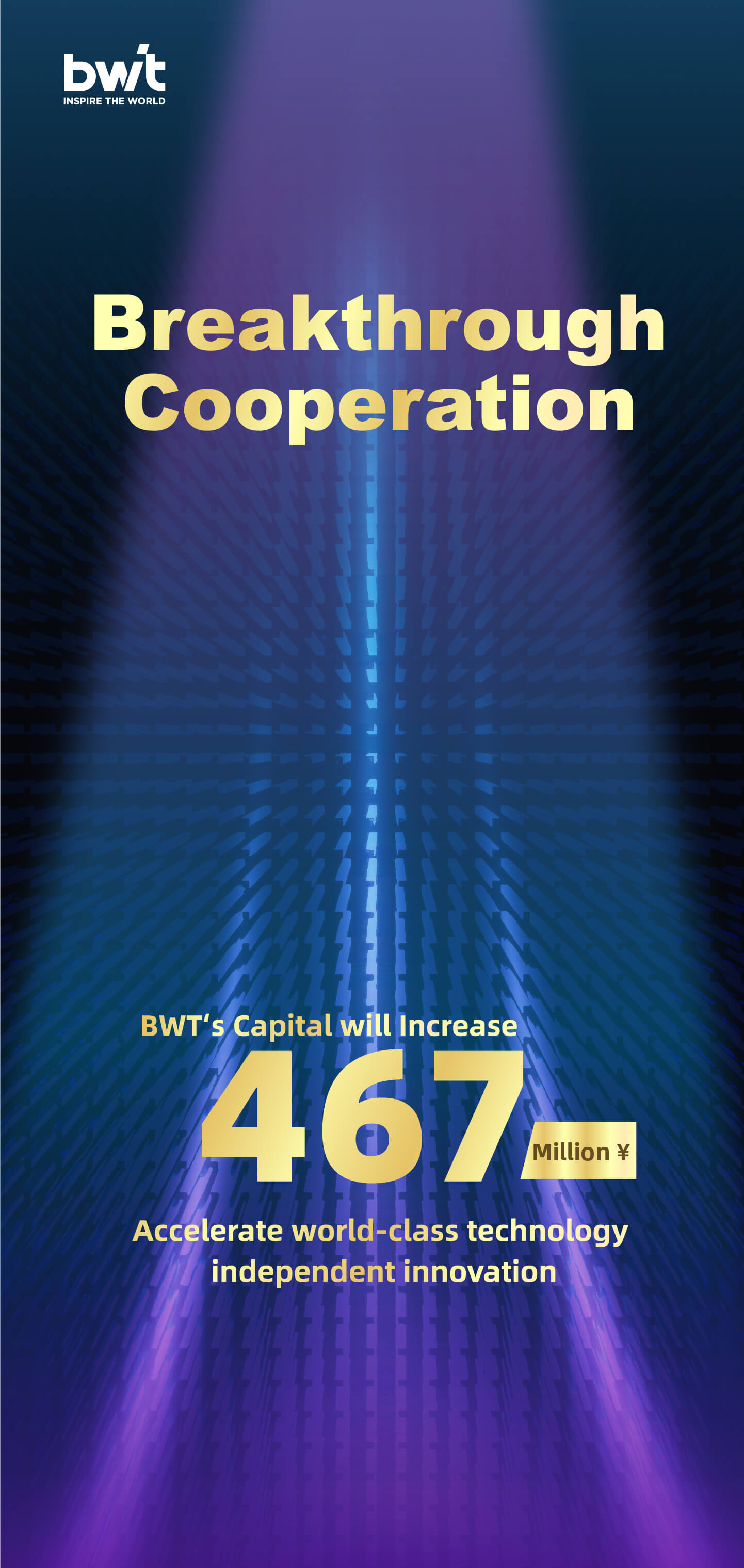 On June 20, BWT Beijing Ltd. plans to increase its capital by 4.67 million yuan, setting a new record for a single round of financing by a non-listed company in the domestic laser industry in recent years, in the laser industry and the community caused a strong response. The investors of this capital increase include Mr. Chen Xiaohua, the founder of BWT, and Mr. Zhao Hongfei, the chairman of the former shareholder of Thunder Software Technology Co., Ltd, more listed companies Linewell Software Co.Ltd.and gathered Zhou Shouhuan academician and other experts in the industry of Beijing Shuimushaohua Science and Technology Development Partnership.
Strategic Investment, Strong Union
This capital increase is a two-way choice between BWT and investors in the industry. It reflects investors' confidence in BWT's development prospects, and is also a prudent choice for BWT to adhere to its long-term development line, will greatly enhance the laser industry upstream and downstream of the symbiosis.
One of the investors, Linewell Software Co.,Ltd. was founded in 2002, is the national government services leading enterprises, industry-leading social governance technology companies. Founded in 2003, BWT is a global leader in laser solutions focusing on high-power laser devices, laser system development and industrialization, we are committed to the development and market application of high performance fiber coupling semiconductor laser, fiber lasers, ultra-fast lasers, etc.
The strategic investment will benefit both sides in the areas of public safety and urban management, with BWT's laser products serving as a core part of smart city infrastructure deployment for lighting and detection applications.
In the area of security, the two sides will jointly develop laser diode sensors (using high power semiconductor laser) and corresponding application systems for collecting information on pedestrian trajectories, behaviour, etc. , especially compared with the traditional camera, the laser sensor is not affected by the strong and weak light conditions, can do three-dimensional panoramic scanning and provide spatial data, and eliminate the personal privacy security problems caused by the camera; In the area of urban management, laser sensors can assess the safety of buildings, bridges and other critical urban infrastructure damage, and thus open up the market for urban infrastructure monitoring.
To sum up, in the application of BWT in the laser detection scene, more mature system-level products such as lidar have been formed, we have a lot of space for cooperation in public safety, urban governance, smart ocean, etc. , and carry out comprehensive strategic cooperation in technology, products, solutions and marketing.
Independent Innovation, Industry Leader
President XI has said that innovation is the first driving force for development and the strategic support for building a modern economic system. As a national strategic emerging industry, laser industry is a long-term national key support industry. BWT grasps the opportunity of the times, strengthens the technology independent innovation.
BWT has undertaken or participated in the large-screen laser display project of Beijing Olympic Games, space exploration project, 863 Laser Material Major Project, Beijing Enterprise Technology Center Key Innovation Project, Beijing high-precision Major Innovation Achievement Transformation Project, national key R & D program"Additive manufacturing and laser manufacturing" special. Current products cover the visible to near-infrared band, output power ranging from milliwatts to megawatts, can provide a high degree of integration of laser devices and systems.
BWT has experts at home and abroad, doctors, masters based R & D Team of more than 100 people. With"Beijing enterprise technology center", "Beijing International Science and technology cooperation base", "Postdoctoral research workstation" and other scientific research and technology platforms, annual investment in scientific research accounts for about 15% of the turnover, it has obtained more than 100 intellectual property rights and is a pilot patent unit in Beijing. In June 2020, "BWT Laser Europe GmbH", a wholly owned subsidiary and Research and Development Centre, was officially launched in the Beautiful Rhine City of Mainz. The products have been exported to more than 70 countries and regions, including North , European Union, Japan and South Korea, with an annual export value of US $20 million, making it one of the most influential laser suppliers in the world
At present, BWT has won almost all the semiconductor laser product awards in the Chinese optic electronic industry, and has won many technological innovation awards:
In 2019, as one of the five selected enterprises in Beijing, BWT was successfully selected as one of the first batch of specialized new"little giant" enterprises in the Ministry of Industry and Information Technology. In 2021, BWT was included in the first batch of specialized and special new "little giant" enterprises supported by the Ministry of Industry and Information Technology.
In the 2020-20212021 year, BWT was awarded the leading Enterprise Innovation Credit of Beijing Enterprises.
Boundary-breaking symbiosis, enabling customers
The development of laser industry is in the ascendant, and the breakthrough of laser technology is changing with each passing day. BWT adheres to the values of Outstanding Innovation, unswervingly promotes technological innovation and product innovation. BWT provides a full range of laser solutions to our customers, contributing value to their development and win-win results.
Based on years of technology accumulation and continuous innovation, BWT has made breakthroughs in high power semiconductor laser pump sources, system integration and software control, and passive device design and development, the "Lightning series" fiber lasers are designed to be smaller, lighter and smarter than ever before, to empower users, and the company continues to expand its product line in the semiconductor laser sector, for more application scenarios, such as blu-ray semiconductor laser, lightweight lock-in wavelength semiconductor laser, medical multi wavelength semiconductor laser, bar stacked array semiconductor laser and related systems, laser radar, LDI, material direct processing and other applications, launched a number of industry leading products, leading the industry development; in the ultra-fast laser field, deep cultivation of picosecond and femtosecond key technologies, solve the practical application of the process problems, to create high profits for customers.
Through this capital increase, BWT will further strengthen the construction of R & D infrastructure, attract and train more top notch talents, enhance the automation and intelligence level of the company's production facilities, expand application scenarios, and promote the development of the industry, to provide quality products and services to customers all over the world. The tide of the times changes quickly, only the boundary-breaking symbiosis, can have a future.